On October 20th, 2016, sponsored by Zhejiang Provincial Department of Culture, Hangzhou Municipal People's Government, hosted by the Zhejiang Intangible Cultural Heritage Protection Center, Zhejiang Intangible Cultural Heritage Protection Association, the Hangzhou Cultural and Creative Industry Office, the 8th Chinese Intangible Cultural Heritage Expo in Zhejiang inaugurated (hereinafter referred to as "Expo") at the second banquet hall in Hangzhou Baima Lake Jianguo Hotel. Wang Chenyang (the deputy director of Intangible Cultural Heritage Department of Ministry of Culture), Ju Chaohui (the vice minister of Zhejiang Provincial Party Committee Propaganda Department), Jin Xingsheng (the director of Zhejiang Provincial Department of Culture), Cai Xiaochun (the deputy director), Chen Hongying (the vice mayor of Hangzhou), Weng Weijun(the member of Hangzhou Municipal Committee and minister of Hangzhou Propaganda Department) and other leaders attend this event.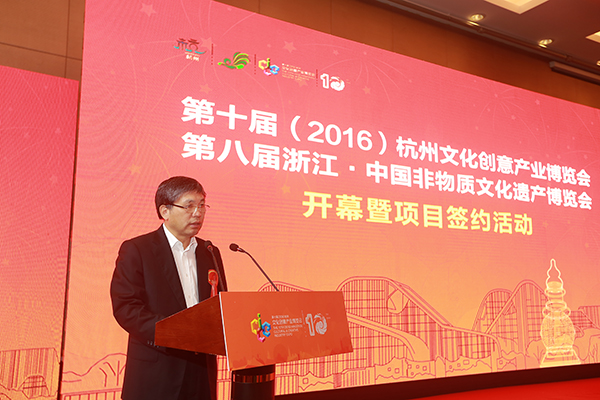 Themed as "Inheriting the Tradition into Life", with "Ancient Wisdom, Artisan Spirit, Living Conditions" for the presentation of content, the Expo was held with the main framework of "Three Pavilions, Two Districts and One Forum". The Expo exhibition covers about 10 thousand square meters. , There were 368 representative inheritors, masters of Arts and Crafts from 17 domestic provinces, municipalities and autonomous regions bring their works and derivative products, a total of 147 projects participate in the event. On the basis of the previous one, this exhibition tries to do innovative efforts and focuses on presenting "the modern expression of traditional culture" so as to create highlights of Intangible Cultural Heritage Expo.
According to the general arrangement of the Expo, "Three Pavilions, Two Districts and one forum" is the main frame of the activity. Three pavilions are respectively "Living Pavilion, Experience Pavilion, Arts Pavilion". The two districts are "Performance District and Exhibition District". One forum refers to "Revitalization of the Traditional Crafts of Hangzhou Forum in 2016" (held in Jianggan District, Hangzhou synchronously). In addition, it will host "Transmitting Intangible Cultural Heritage", which is Zhejiang Traditional Costume Exhibition Review Activity.
Source: wht.zj.gov.cn
Times: 2016-10-20